Before creating any designs I wanted to look at web trends and what is happening now and what is forecasted in the design world in the next year 2017.  Design on the web is constantly changing and evolving and by researching future trends it is a good way to keep your designs current.
Video
A video can capture the users attention drawing them in emotively to the subject and is ideal for story telling having advantages over traditional story telling. Video can by dynamic with sound and movement and is a powerful way to communicate with the audience.  There are many ways to view video on the internet now: Snapchat, YouTube, Facebook and other social media platforms.  Full screen video can be extremely powerful and immersive as can be seen in the example below.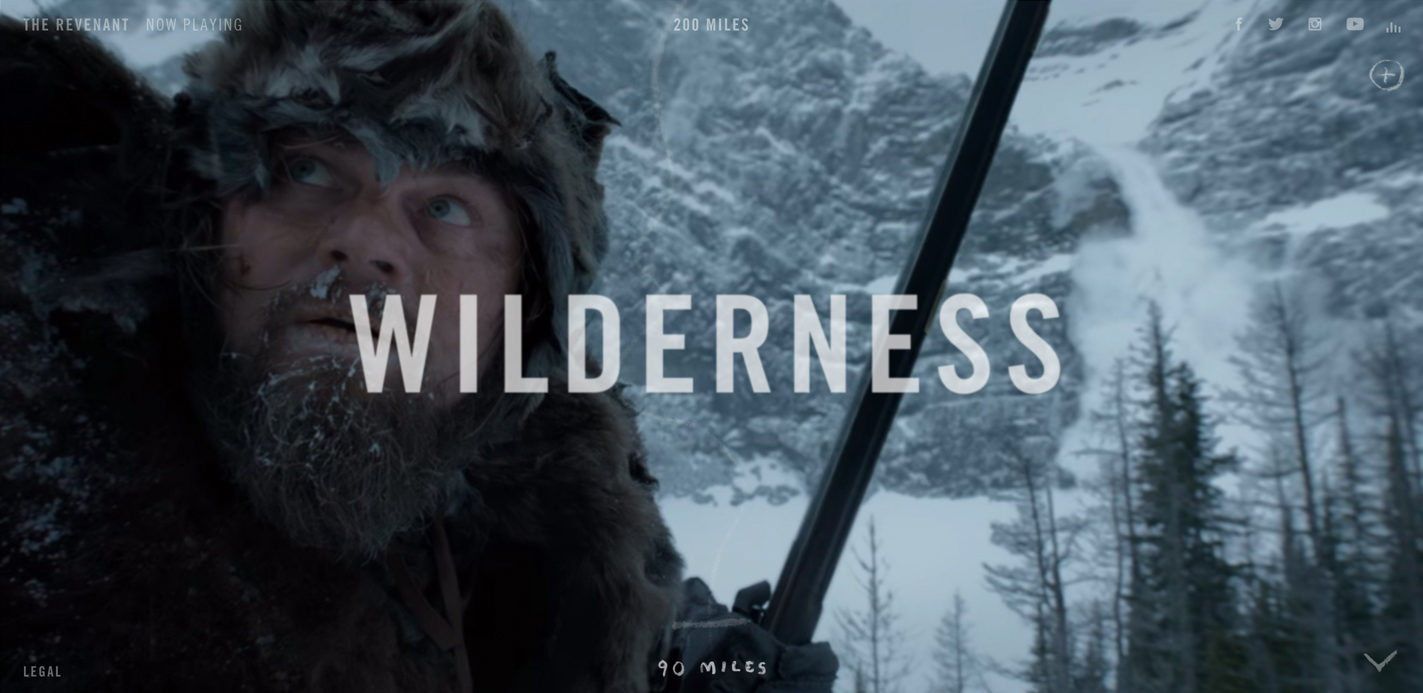 The above screenshot from 200miles.com, a promotional site for the movie The Revenant, uses full screen video and minimal typography to create an engaging experience which instantly draws the viewer in, encouraging them to stay on-page longer and watch the video to see what unfolds. (https://www.zazzlemedia.co.uk/blog/digital-design-trends/)
This is a trend that is here to stay with Cisco predicting that by 2020, 82% of consumer internet traffic will be video and Mark Zuckerberg signalling to the market that Facebook is prioritising video.
Cards and Grids
Cards allow users to clearly see content easily and quickly allowing larger amounts of content on the screen allowing users to then drill down, filter and select specific areas.  Intuitively allowing users to navigate through a site they suggest a familiar view to the user.  With Pinterest and similar sites using cards they are currently a popular way to view content.  Zazzlemedia.co.uk predict 'as attention spans become shorter and users seek quicker and easier ways to find the content they want, we anticipate seeing more brands implement this particular UI pattern'.
Breaking the Grid – Creativebloq.com disagree with this and suggest that 'designers will move away from grids and rigid baseline structures allowing users to create real statement pieces through the use of layering, depth, motion and obvious focal points' similar to the image below.  This indicates we may see a mix of both styles of design in the near future possibly giving advatorial sites more freedom in their design while more data and content based sites sticking with the familiar card, grid layouts, it will be interesting to see how this develops.

Long Form Content, Scrolling and Parallax Design
As the term 'the fold' is used less and less with users viewing content on smaller sized screens users has become more comfortable scrolling to find content.  With Videos and animations playing and pausing as the user scrolls up and down the page it works well on the majority of devices it is a good way for users to quickly view a lot of content.  The addition of parallax gives an additional element to long form design and scrolling, parallax design is the effect where the background moves at a slower rate to the foreground, this gives a sense of depth and added interest to the user.  Zazzlemedia.co.uk predict the clever use of scroll and parallax effects to be something implemented more and more.
This is an example of parallax design and long scroll – click here
I did find some pototential issues with parallax scrolling as reported by Awwwards.com which I have highlighted here as a reminder when coming to the design stage of the project:
Bad for SEO. As sites that utilize parallax scrolling tend to be made up of one page, there's usually little in the way of content that can be crawled by the search engines. This is especially true as text tends to be embedded in graphics.
Can reduce performance. Due to the heavy use of graphics and JavaScript, a page can get clogged up on mobile load causing slower load times on mobile.
Can affect users negatively. The Journal of Usability Studies carried out research on parallax which found that whilst the parallax site was considered to be more fun than non-parallax sites, some users experienced "motion sickness and experienced significant usability issues when interacting with the parallax website."
These are just some of the trends I found through my research which will develop further in 2017.  I plan to look at other trends in other blog posts which are relevant to the projects I am working on and incorporate some not all depending on the needs of the users of the website. I found through my research that websites solely built on trends can soon look dated as the industry and design changes quickly.